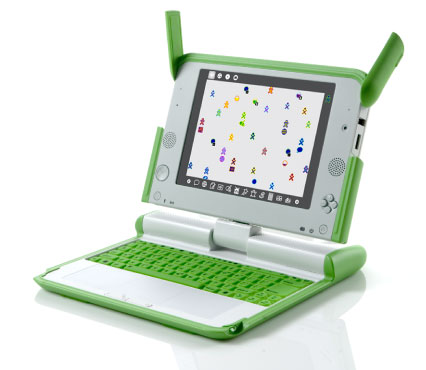 Nicholas Negroponte'
s idea of "
100-dollar-laptop
" has come to life recently. The mission of One Laptop Per Child (OLPC) is to develop a very low-cost, high-potential, extremely rugged computer
for the two billion educationally underserved children in poor
countries. The laptop is now called the XO, because if you turn the logo 90 degrees, it looks like a child. OLPC is now running the
"Give 1, Get 1" program which allows consumers in the industrialized world to buy one computer and have a second donated to a student in a developing country.
The price for an XO laptop now is $200 USD (they are expecting to lower the price in the next few years). So you pay $400 (
www.xogiving.org
). One XO laptop (and a tax deduction) comes to you by Christmas, and a second is sent to a student in a poor country. And this program runs until November 26th.
The reviews of the XO laptop I read so far are pretty amazing. Checkout the review below from New York Times and you will see a little demo of the XO laptop.